HBO celebrates new season of Westworld with Free Preview Weekend on REV
REV subscribers can enjoy HBO content FREE all weekend March 13th-15th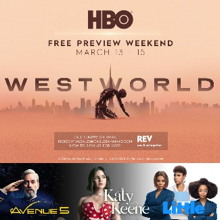 REV subscribers are in for a treat with a special HBO Free Preview weekend. This special offer comes as HBO prepares to launch the 3rd season of its hit show WestWorld.
Davrielle Burrows, REV Senior Public Relations Coordinator said, "We couldn't think of a better time to give REV customers a taste of what they're missing with HBO, than this weekend. WestWorld has performed extremely well around the world and we know that a number of our customers are already hooked! Now, those of our subscribers who don't have HBO can see why they ought to upgrade."
WestWorld isn't the only show customers will be able to watch. A host of movies like little and other hit shows like Katy Keene and Avenue 5 will be airing all weekend long. Further, TRIO customers who haven't signed up for HBO yet can enjoy HBO content using their HBO GO app which was included free in their TRIO Package.
The HBO Free Preview weekend will begin on Friday March 13th and continue until Sunday March 15th, 2020. REV encourages all of its subscribers to tune in and enjoy!
Founded in March 1995, REV has grown from a cable TV service provider to become the first communications provider in The Bahamas to offer 'triple play' service. Today, the 100% Bahamian owned company is publicly listed on BISX with over 3,000 Bahamian shareholders. The network is comprised of 14 free-to-air broadcast systems, eight stand-alone cable TV systems and four triple play systems networked by submarine fibre. We are the only 100% Bahamian owned communications provider, delivering residential and corporate broadband internet, cable television and fixed line calling, to 99% of the Bahamian population, 24 hours a day, 365 days a year.