REV MEDIA & OUR TV SIGN LANDMARK FAMILY MOVIE DEAL WITH SONY PICTURES
Our TV Favorites Will Go into Rewind March 29 With OUR TV's Family Spring Break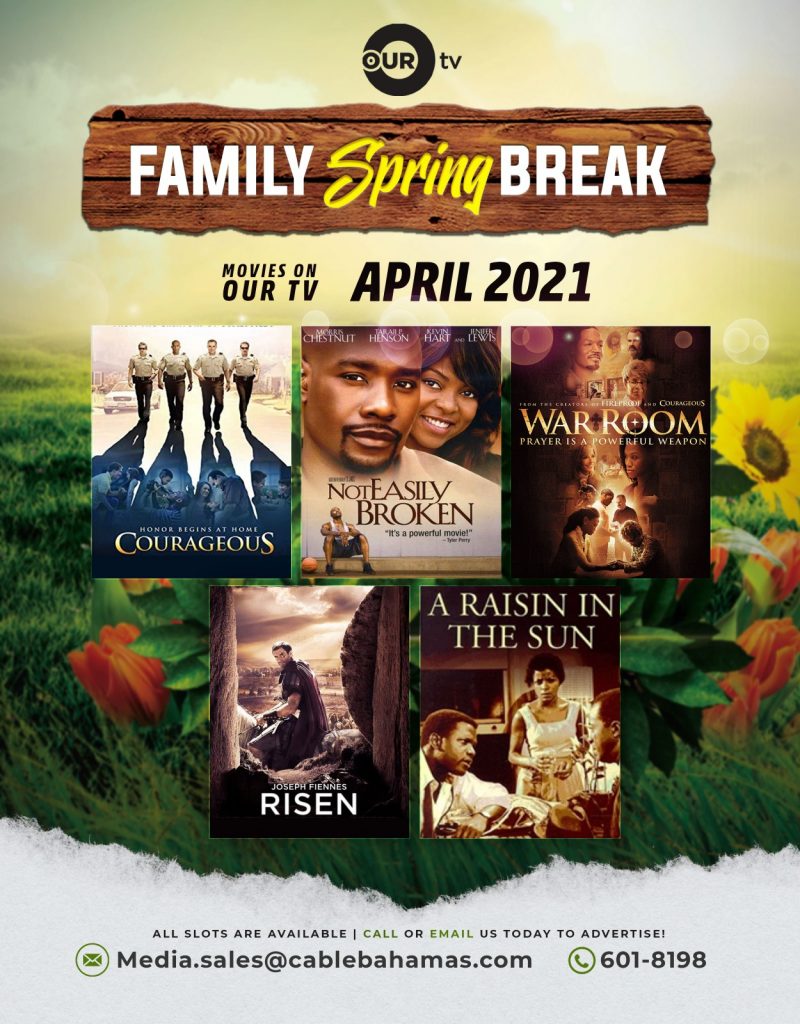 REV Media today announced a second licensing deal with Sony Pictures adding an additional 21 movie titles to the Our TV lineup this Easter and Spring. Our TV now boasts more than 100 international titles from Hallmark to Sony, as well as 14 original local TV shows – an investment of nearly $1M over the past two years.
Relax and reconnect this Easter holiday season with Family Spring Break, only on Our TV REV channel 212, the leader in local programing in The Bahamas.
Family Spring Break kicks off on March 29, 2021 with the hottest episodes of your favorite Our TV Originals back on the small screen. Catch up on episodes you missed from On The Frontlines, Broke Bosses, Happy Foods 242, The New Sawyerboy TV Show, Goombay Kids and Gippie's Kingdom, just to name a few, until April 26th on OUR TV REV channel 212.
Reconnect spiritually with family-friendly, faith-based matinee and prime time features, including Not Easily Broken and Courageous. Our TV celebrates Easter Sunday with faith-based movies, Risen and the War Room. Sit back and relax on Easter Monday with a timeless classic, A Raisin In The Sun, featuring beloved, Sir Sidney Poitier.
Fan favorites from Sony Blockbusters bring a perfect blend of action and comedy, with Men in Black, Vantage Point and Mom's Night Out.
You may not be able to get out and connect with your family this Easter holiday season, but Tyler Perry's Madea invites you to join hers for Madea's Family Reunion and Diary of a Mad Black Woman.
There is even something for the hopeless romantic this Easter Season, with OUR TV's Hallmark Spring and Love features.
From Sports to Entertainment, to Reality and Fitness programming, Our TV boasts a robust portfolio of local programming, cementing Our TV's spot as the top destination for local television in The Bahamas.
"We know how special the Easter season is for families. The pandemic has made it difficult for us to all get together, so Our TV wants to bring the feeling of family to your living rooms," said Vinnette Gaitor, REV Media Operations Manager.
Our TV Originals are produced by more than 200 cast and production team members, across 14 shows.
Our TV is the only 24-hour all video television station in the country with an impressive lineup of local and international content that Bahamian viewers tune in for.