REV Partners with SunCash for Bill Payment Processing
REV has come to an agreement with SunCash to make payment processing easier for its subscribers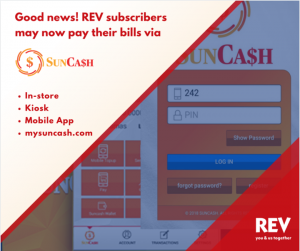 REV was among the majority of businesses in the country who were asked to close their retail outlets in keeping with the emergency protocols put in place by the Government in response to the COVID-19 pandemic. As a result, customers are no longer able to come in and make cash payments on their accounts.
Barry Malcom, SunCash Director praised the partnership saying, "Sun Island Transfers Limited or SunCash is very pleased to have concluded an agreement to partner with Cable Bahamas to provide services to their customers using the SunCash network. We've worked with Cable Bahamas for quite a while to come to a point at which, our customers can walk into our stores and pay bills for Cable Bahamas in real time on a great, reliable system.   This relationship is part of a broader partnership we envision having with Cable Bahamas as more of our SunCash products are rolled out and as Cable Bahamas comes to see the speed, efficiency and viability of using Suncash for their customers.
While all REV subscribers are able to manage their accounts via the web using the company's online portal, MyAccount or through automatic e-billing the company understands that for some, cash payments are still their preferred option.
The telecommunications provider came to an agreement with SunCash to allow REV customers to make cash payments on accounts at their locations in both, Nassau and Freeport and a number of Family Islands including, Abaco, The Berry Islands, Eleuthera, Exuma, Acklins and Mayaguana. SunCash has also made its digital app platform available for Cable Bahamas subscribers to pay their REV bill with the click of a button.
REV VP of Finance Nerika Burrows spoke of the partnership saying, "In this new phase of digital transformation – it is very important that we meet our customers across The Bahamas where they are and put the power of bill pay at their fingertips – SunCash will make this all possible for us."
Mr. Malcolm added, "Suncash has the largest payments network in the country. We have 32 locations all over The Bahamas. We're in basically every major island of The Bahamas and additionally the platform itself allows individuals from anywhere inside The Bahamas to access a means by which they can pay their Cable Bahamas bill or any other utility bill within the country."
It should be noted that the times and locations for cash payments are subject to change by  government and the general public should call or check social media for relevant updates daily.
For more information on Cable Bahamas' MyAccount platform, customers can visit my.rev.bs, www.rev.bs or the company's Facebook page @ GetRevvedUp. Any customer who wishes to sign up for e-billing can WhatsApp 801-0553/54.  There are also a number of relevant video tutorials on this topic and more available on the REV Cable Bahamas Channel on YouTube.