Fixed, Mobile and Cloud/ Data Centre solutions to increase efficiency, improve customer service and drive digital transformation for your business.

4 GREAT REASONS TO CHOOSE US



Affordable packages with fixed and mobile innovations to connect, transform and grow your business!

Redundant, Gig-speed submarine Fiber system that connects your business in The Bahamas to the World!

Highly customizable Cloud configurations with geo-diverse data centers to power mission critical applications or fortify BC/ DR plans!

Scalable FTTx network design, implementation and support with Managed WiFi and LTE options to enable your IOT platforms!

Business in a Box (BIAB) is a turnkey bundled solution that provides data, voice, TV and advertising to the start-up or small business entrepreneur to ensure they have all the services needed to grow. Each bundle is customized to suit you – delivering scalability and flexibility where and when you need it most.


BIAB ADD-ONS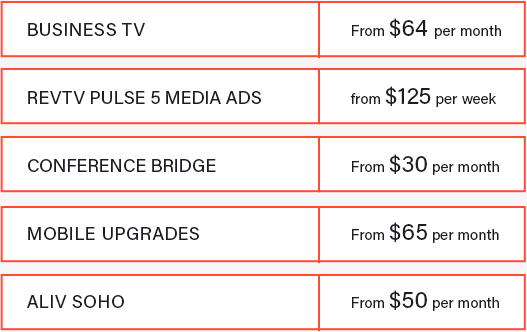 CBL WDIA Reference Offer
Business Solutions
As the only 100% Bahamian-owned quad-play telecoms operator, Cable Bahamas Business Solutions (CBBS) is uniquely qualified and positioned to support your digitization objectives!
FIBER INFRASTRUCTURE (FTTX)
In conjunction with technology partners like Calix and Huawei, CBBS has worked with many developers and property owner associations to design and deploy innovative Fiber to the X (FTTx) infrastructure in various residential communities and corporate offices throughout The Bahamas.
This includes
Turnkey solutions for new developments or retrofit projects for design, installation and maintenance of optical fiber networks
Capacity for unprecedented high-speed Internet access speeds of up to 1000 megabits per second (Gbps), up to 100 times faster than a typical modem or DSL (Digital Subscriber Line) connection.
Scalable solutions for developers/ property managers or property owner associations wanting to improve infrastructure at homes/ residences, condos/ apartments, hotels and businesses in their community in single or multiple phases.
NATIONAL DATA CENTRES
Infrastructure as a Service (IAAS) in The Bahamas!
Cable Bahamas owns and operates two state of the art Disaster Recovery and Business Continuity (DRBC) Centres with one in Nassau, New Providence and the other in Freeport, Grand Bahama, with data stored in the Bahamas.
Features of these purpose-built structures include
Redundant generators
Dual UPS systems
Fully redundant air handling and water chilling systems
Dual independent FM-200 fire suppression systems
Meshed internal network design
Third, half and full rack cabinets
Multi-layered security systems
Access to CBBS Gig-speed Fiber network for private links or Internet connections
24×7 Network Operations Centre.
The CBBS Cloud Backup Service (CBS) is a turnkey solution designed to help you automate daily off-site backups and eliminate challenges associated with purchasing/ replacing/ storing costly tapes; as your files remain encrypted in flight and at rest.
You can also upgrade from CBS to the CBBS Cloud Disaster Recovery Service (CDRS), where you can remotely access your data and restore your applications anytime, anywhere.
Managed Services Provider (MSP)
CBBS can assume ongoing responsibility for network monitoring, managing and/or problem resolution for CBBS systems and functions on your behalf… your Managed Services Provider (MSP). Alerts, security, patch management, data backup and recovery for different client devices: desktops, notebooks, servers, storage systems, network infrastructure and applications empowers you to concentrate on running your business, with fewer interruptions due to IT issues. CBBS IT and technical engineers are fully certified with a wealth of experience in a myriad of network solutions.
You decide what you want CBBS to take care of, and what you want to handle. You retain full visibility into the process and management of your systems and most importantly, the CBBS MSP subscription model gives you more expense predictability than a consultant-type time and billing model.
CBBS partners with many premier manufacturers such as HP/ Aruba, Mitel, Cisco, and Juniper, and CBBS is able to offer very attractive pricing for these systems.
Arrangements can also be made to ensure that spares are kept on island, so in the unfortunate case of a failure, replacements are only 30 minutes away, rather than in the US.
CBBS' experienced can provide support and facilitate logistics channels back to each vendor.
Ultimately, CBBS will help you control your costs… at every growth stage of your business.
DEDICATED INTERNET ACCESS (DIA)
Breakaway Internet speeds on CBBS Gig-speed Fiber network!
CBBS provides robust, secure Dedicated Internet Access (DIA) over our robust Gig-speed Fiber network to enable bandwidth-intensive applications to deliver LAN-to-LAN and LAN-to-Internet connectivity at breakaway speeds for your business.
Hence, CBBS Gig-speed Enterprise Fibre network will provide your business with
Unlimited 24/7 high-speed Internet access
Gigabit Fibre Internet speeds (synchronous)
Static IP addresses assigned based on ARIN standards and customer justification
Available service options

Cloud Backup/ Disaster Recovery
BGP setup to facilitate multi-homing
Cyber security applications and monitoring
WiFi infrastructure setup & management
Managed router & firewall services including CPE installation, configuration & support
Promote your business with REVTV ads
Easy to add PBX and Voice services

24x7x365 priority Commercial Support
There's no perceived latency within our network, and as we have provisioned our submarine Fibre, (owned and managed by Cable Bahamas Limited) there is less than 75 milliseconds of latency to POPs in the U.S. Enterprise Fibre will not over-subscribe bandwidth within our network, so the speeds you purchase are the speeds you will get. Furthermore, we guarantee throughput from our Ethernet handoff to the far end of our backbone.
LOCAL & NATIONAL LOOP CONNECTIVITY
Perfect for multi-site companies that need secure, dedicated connections between locations! 
CBBS Enterprise Fibre, our Ethernet IP Network, seamlessly extends your company's LAN to other business locations; allowing you to securely connect distant locations to create a single managed Wide-Area IP Network. Hence, you can route traffic between offices through CBBS MPLS/ Fibre Loops, either on the same island or on different islands. You can also consolidate your network management with centralized Internet service (as well as your own enterprise applications) distributed to distant international locations.
Enterprise Fibre National & International circuits will provide your business with
Dedicated point-to-point connection
Greater scalability up to 1Gb/s bandwidth

Supports corporate applications, CCTV, inter-office calls, etc.

Better performance, reliability and security than public Internet
Managed services including CPE installation, configuration & support
24x7x365 priority Commercial Support
INTERNATIONAL CARRIER CIRCUITS
CBBS can provide a complete one-stop shop solution and arrange for complete end-to-end data connectivity, whether you simply want to link your Nassau operation to your Freeport remote office, or link offices all the way to London or Geneva. We will work with our carrier partners to facilitate national and international Fiber links via NAP of the Americas to connect your locations throughout our robust Gig-speed, Fiber-optic infrastructure.
We also have an extremely high penetration of Fiber with MPLS routing, reaching all major multi-tenant buildings. With this high density of Fiber, we offer the best in terms of low latency, with 99.99% reliability and performance, reflective in our Service Level Agreement (SLA).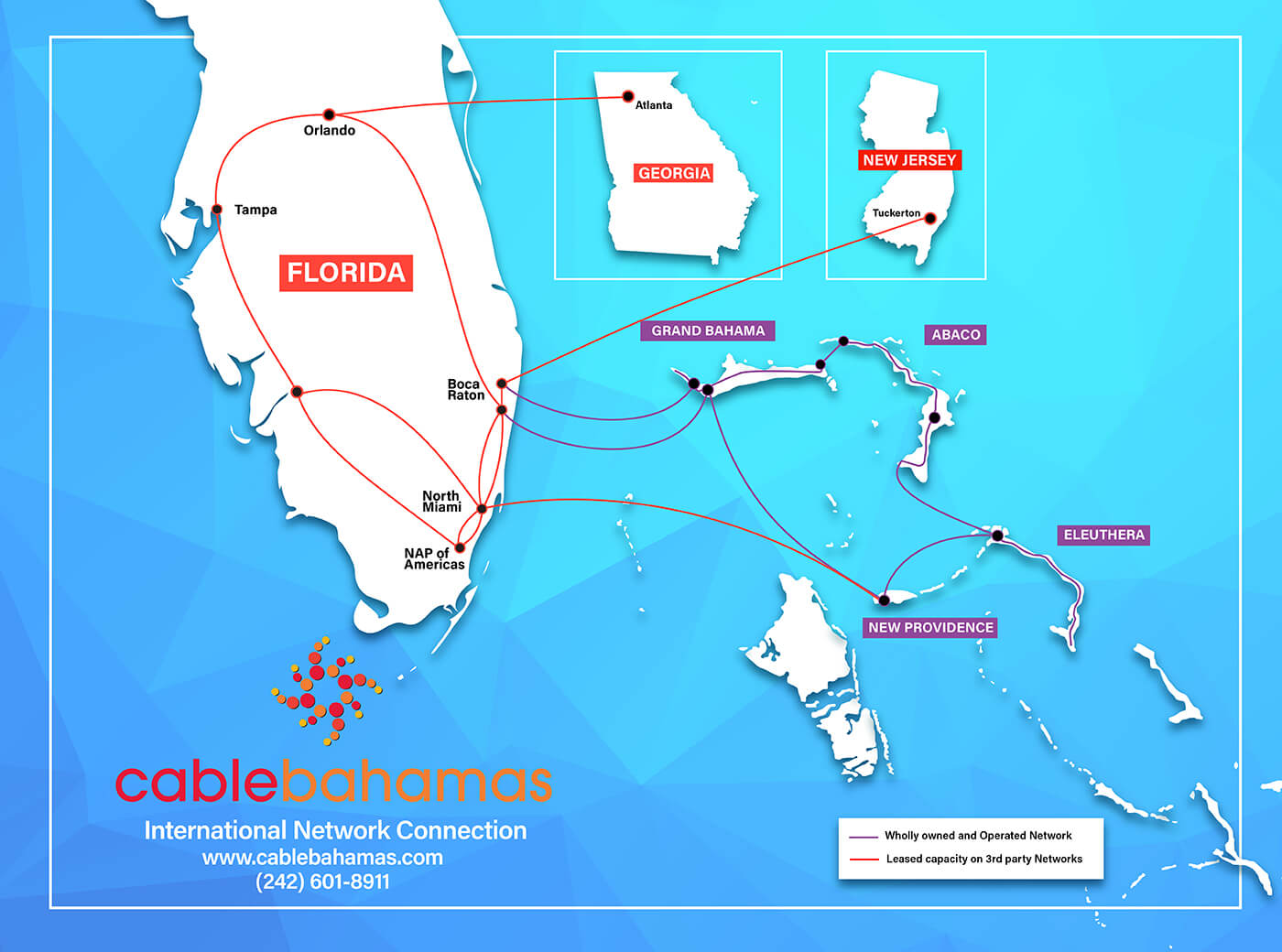 CBBS Enterprise Fibre National & International circuits will provide your business with
Dedicated point-to-point connection
Greater scalability up to 1Gb/s bandwidth

Supports applications, CC TV, inter-office calls, etc.

Better performance, reliability and security than public Internet
Managed services including CPE installation, configuration & support
24x7x365 priority Commercial Support
Feel free to contact CBBS dedicated Carrier Sales Team for details
BUSINESS VOICE LINES
Save money with CBBS Voice Lines starting at $29.99/ month including caller ID, hunting & many other features!
CBBS will give you unlimited local calling, unlimited on-net national calling, Caller ID, competitive long distance rates, affordable business calling plans and virtual numbers. We will also deliver 24x7x365 network monitoring and support by a dedicated Nassau based monitoring and account team, with personal customer call escalation for mission critical issues. 
In addition, CBBS can provide SIP trunks or PRI/ T1 service for customers that want to keep their existing PBX/Key systems, whilst leveraging our voice network with affordable rates to decrease their long-distance calling costs.
CBBS has also partnered with ALIV to give your business a full range of cellular options, including UNLIMITED mobile voice & data plans. Click https://www.bealiv.com for more details on residential and corporate mobile plans.
BUSINESS PBX SOLUTIONS
Scalable and affordable Hosted & Onsite PBX Solutions!
CBBS Hosted Voice delivers with PBX capabilities and features without the cost of purchasing a PBX or Key system, or having a dedicated on-site team to manage your phone system, while still retaining administration control through our online web application. 
CBBS also provides onsite PBX systems from industry leaders like Mitel, Avaya and Cisco, which can be customized to meet your business telecoms requirements.
HOSPITALITY & BUSINESS TV
Cable Bahamas Business Solutions delivers cable TV with more than 100 channels in high definition (HD) and premium sports subscription services (NFL, NBA, NHL, MLB, FIFA) available. Packages include a variety of local programming, major news/ sports networks, lifestyle, and foreign language channels, to suit your business, hotel or restaurant/ bar.
HD and IPTV options include 
In-Room Entertainment for hotels, time-share and hospitals

Public Viewing for bars, lounges, gyms

Hosted Specialty Content (sports, gaming)

Community Channel & Digital Signage to engage staff, members and guests
MOBILE VOICE & LTE PLANS
CBBS offers Mobile & LTE solutions that are powered by ALIV's national coverage 

Mobile voice and data plans enable you and your team to connect and collaborate anywhere and anytime from any mobile device, which helps to increase productivity and improve the customer journey!

LTE services deliver efficiency and full visibility of assets that you need to track, monitor and control – anytime and anywhere.

Click https://www.bealiv.com for more details on residential and corporate mobile plans.
IOT APPLICATIONS
Manage assets and fleets wherever they are, with access to real-time data, via ALIV's nationwide LTE coverage! This allows leaders to automate manual tasks, track vehicles of all shapes and sizes, access predictive weather analytics, and monitor remote applications (thermal, CCTV, utilities) for your smart office! 
PUSH TO TALK
Need to improve operations efficiency and worker safety? Push To Talk helps teams to stay connected with real-time feedback to control workflow processes, and nationwide LTE coverage for location tracking. In addition to rugged devices for work and event coordination, these tools help managers to increase efficiency with delivery/ collections, and improve productivity through instant communication with from multiple people.
Price not inclusive of VAT. Speeds shown represent approximate performance that can be expected for traffic on our own network and are not guaranteed. Telephone not included. PBX Telephone Systems with Voicemail, Transfer, Conference and additional features are available. Savings based on comparing standard rates with standard rate. Read our Terms & Conditions and Acceptable Use Policies for our business services.
Find out more about our Broadband Resale Offer.