Franklyn Augustus Butler II, Executive Vice President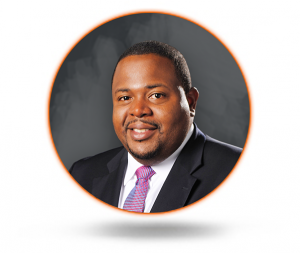 Since returning to the Bahamas in 2003 after completing a Bachelor's of Science degree in Accounting & Finance from the University of Warwick in Coventry, England, Franklyn joined his family's business of Milo Butler Group (an investment holding group with diverse interests in the Bahamian capital markets) where he served in several capacities.
He has established himself as a family business resource, strategic thinker and value added partner throughout the Bahamian capital markets. During his time with Milo Butler group he focused on the growth and transformation of his family's business and led the transition from G2 (the sibling generation) to G3 (the generation of cousin consortiums) in management and ownership with the story being featured on the cover of the Family Business Magazine a US publication in their November/December 2014 publication. Franklyn is considered one of the region's leading experts in corporate governance and succession planning in family businesses. He is often used as a resource for speaking and educating multi-generational businesses on the do's and don'ts of managing the family and the business.
In 2017 Franklyn was appointed Executive Vice Chairman of Cable Bahamas Group and was appointed President & CEO in 2018. In addition to this role Franklyn is no stranger to Bahamian capital markets as he serves as Chairman and Director of AML Foods Limited – the leading supermarket chain in the Bahamas, Chairman and Director of Be Aliv Limited – the second mobile operator in there Bahamas where he was involved in negotiating the second mobile license for the Bahamas, architecting the brand ALIV and leading management through the startup and launch of the business. He is also a director of Arawak Port Development Company and continues as Chairman of Milo Butler Group.
Franklyn is married to Eugeina T. Butler and they have one daughter. Both attend Bahamas Harvest Church and enjoy travelling, reading, mentoring and coaching young persons while making time for water activities such as swimming, fishing and boating.
In addition to the above, Franklyn is also a member of Young President Organization Bahamas and Orlando chapters. He is also a member of the Salvation Army Bahamas advisory board.