REV sponsors local theatre festival for nine consecutive years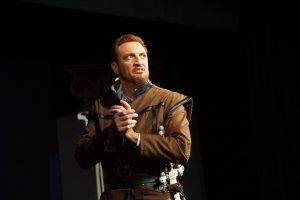 "Shakespeare in Paradise receives major donation" — Bahamian theatre company, Ringplay Productions announced REV as the major sponsor for the ninth annual Shakespeare in Paradise theatre festival. "Quite simply, our partnership with REV over the years has allowed Shakespeare in Paradise to exist." says Dr Nicolette Bethel. " Our festival produces original works, brings in international productions, and revives old but well-loved Bahamian plays for new audiences, among them a whole group of students from the public and private schools. We appreciate all that REV has done for us over the years. Particularly valuable to both of us is their recording of our productions."
The festival, which has become a major event for schools and Shakespeare fans alike is designed to expose Bahamian audiences to the very best in local, Caribbean, African and American theatre traditions. The festival will run from Monday, October 2nd until Saturday, October 14th boasting four plays and two concerts this season.
"REV continues to play a pivotal role in promoting awareness of this cultural event by marketing all TV advertising of Shakespeare in Paradise at no cost" says Marketing Manager, Melissa Colebrook. "We have sponsored Shakespeare in Paradise from inception and this year we made the decision to enrich the lives of six hundred students with complimentary tickets to the festival."
Colebrook continued, "REV has always leaned towards promoting Bahamian culture; it's embedded in the fabric of everything that we do. Our leadership believes strongly in solidifying our cultural roots by using the platform that we've been entrusted with to ensure its long-term viability. To this end, we continue to support initiatives that are aligned with our core values and mandates."
Ringplay Productions will open the festival with William Shakespeare's "Othelo", a classical tale of jealousy and racism, brought to the stage by Shakespeare in Paradise artistic director Philip A. Burrows.
Shakespeare in Paradise will also premier, "Small Axe", a new play by Dr Nicolette Bethel about an idealistic civil servant, his cousin the Prime Minister, and the woman who comes between them. The production runs from October 2 – 7, with four public performances and two student matinees.
Theatre-goers will also have the opportunity to see "From Yardie to Yankee", a one-woman show featuring Sardia Robinson's autobiographical story of how she left Jamaica for the US .
"Once on this Island" is a musical fable with book and lyrics written by Lynn Ahrens and music by Stephen Flaherty. It first debuted on Broadway in 1990 and is based on the novel "My Love, My Love" by Rosa Guy, which in turn was inspired by Hans Christian Andersen's "The Little Mermaid". The productions is a tale about a peasant girl who falls in love with a rich boy from the other side of the island was performed in Nassau in 1995. This years show will be directed by Philip A. Burrows with musical direction by Adrian Archer, and will be dedicated to the memory of the late Bryan Thompson.
Judah the Lion and Tebby Burrows will also feature in concerts during the festival period.
Persons interested in viewing the festival calendar or learning more about the two-week event can visit the Shakespeare in Paradise web site at www.shakespeareinparadise.org.