REV all set to sponsor the Susan G. Komen Race for the Cure Bahamas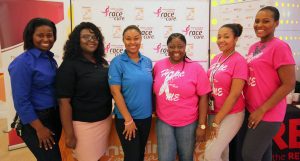 "Company continues to promote cancer awareness through charitable partnerships" 
REV has a long standing history with supporting cancer awareness in The Bahamas. This year, REV, along with the Susan G. Komen Race for the Cure Bahamas organisers will host two power breakfasts at the flagship store in the Mall at Marathon. "This is a great opportunity to raise awareness about breast cancer" said Event Coordinator, Suzelle Etienne."Our teams were in the store from 10am until 12pm on October 20th and will be there again from 11am until 1pm on October 27th with light refreshments. It's an opportunity for customers to have questions answered and to purchase tickets for the upcoming annual marathon."
According to Etienne, "It was important to us, as a corporate citizen to help push breast cancer awareness." She also referenced the company has partnered with several local charities during the month of October including the Grand Bahama Hope Ball, Cancer Society Gala Ball and Komen Bahamas Race Marathon.
"Susan G. Komen Bahamas Race for the Cure is excited to take part in these events. This will be a first for us and we certainly don't take this opportunity for granted. We know that a large volume of customers visits the REV mall store on any given day, so this allows us to reach a larger audience and really drive home our message of breast cancer awareness, as well as promote our upcoming walk" said Komen Bahamas PR Chair, Rogan Smith. "REV continues to demonstrate its commitment, not only to our community, but to our organization. It has always been a supportive sponsor and partner. We appreciate the fact that REV continues to search for creative ways to help us boost our registration numbers. The company is constantly thinking outside the box and we're proud to benefit from that type of creativity. We encourage Bahamians to come out and support us during the power breakfast."
The eighth annual Race for the Cure 5K marathon is set for January 13th , 2018 starting at Montagu Beach and will be broadcast live on REVTV channel 212. Station Manager Alexia Coakley shared, " OURTV is pleased to have been the broadcast sponsor of Marathon Bahamas and the Susan G. Komen Race for the cure since its inception. Our channel has enjoyed a long standing relationship with the organizers of this distinguished event through presenting the same live event to our many viewers throughout the Bahamas and in so doing, raising awareness about these signature events and their worthy causes." Coakley continued, " Through the years we have spared no expense in delivering world class coverage of race day and providing the Internet connectivity that supports the hundreds of participants and organizers. We look ahead to race day 2018 where we will once again present this event to the Bahamas."
REV television subscribers are invited to tune to channel 212 on race day for an exciting commentary, wonderful stories and scenery from the ground and the air as REV once again brings highlights from the day's events. Persons interested in participating in the marathon or learning more about the event can visit www.komenbahamas.org for more information.