Cable Bahamas Ltd. Announce Partnership with Bahamas National Trust (BNT)
50 for 50 Tree Planting Initiative in honor of The Bahamas 50-year
celebration.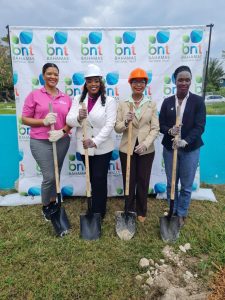 Cable Bahamas and Aliv are proud to be sponsors of the "50 for 50" tree planting campaign which, under the patronage of the Office of the Spouse of the Prime Minister and lead by the Bahamas National Trust (BNT), will see us plant 50 trees across The Bahamas on the road to our 50th anniversary of Independence with Celebrate Bahamas.
The first tree planting event, which took place on March 8th, 2023, brought Cable Bahamas Business Solutions, Government Officials and BNT executives together to plant 2 mahogany trees and a breadfruit tree at the Lou Adderley Park in Marathon. The mahogany trees were sourced from the Leon Levy Native Plant Preserve, and will serve as a symbol of the collective commitment to the environment and the Bahamian community. In addition, the breadfruit tree, also affectionately known as the "feeding tree" was personally donated by Mrs. Davis to encourage planting of more feeding trees in our communities.
"We are thrilled to partner with the Bahamas National Trust on this initiative," said Charnette Thompson, Vice President of Cable Bahamas Business Solutions. "As a company, we recognize the importance of sustainability and are committed to protecting our environment for future generations. We believe that planting a tree is a simple but meaningful way to demonstrate our commitment." In addition, as a SAC graduate, Mrs. Thompson was honored to plant trees at this Park location, which honors the memory of our beloved, former principal Deacon Lou Adderley.
The 50 for 50 Tree Planting initiative aims to raise awareness of the importance of trees and the role they play in our ecosystem. This effort will also help to replenish trees lost during natural disasters, hurricanes and the like. Plans to plant trees across the nation are underway and will include Grand Bahama, Inagua, Abaco, Eleuthera and San Salvador. By partnering with BNT, Cable Bahamas Business Solutions hopes to inspire others to act and make a positive impact on the environment.
"We are grateful to Cable Bahamas Ltd. and Group of Companies for their support and commitment to the environment," said Lakeshia Anderson-Rolle, Executive Director of the Bahamas National Trust. "By planting a tree, we are not only helping to improve our environment but also demonstrating the power of partnership and collaboration."
Cable Bahamas Ltd. is committed to supporting sustainable initiatives and making a positive impact on the Bahamian community. By partnering with BNT, we hope to continue to drive positive change and inspire others to do the same.