Cable Bahamas Business Solutions celebrates Teachers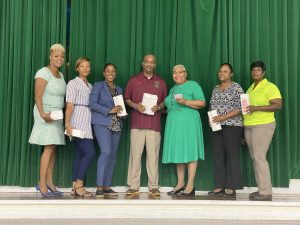 Nassau, The Bahamas – Cable Bahamas Business Solutions (CBBS), the nation's leading technology provider for business services across The Bahamas along with SmartTerm Technology Ltd., took great pleasure in celebrating the contributions of teachers all around the nation. Recognizing that teachers play a vital role in shaping the lives of students, CBBS and SmartTerm rewarded their hard work, dedication, and tireless efforts to ensure that students receive the best education possible.
As part of their commitment to supporting teachers, CBBS and SmartTerm were proud to pay special tribute to the educators of the Anglican Central Education Authority (ACEA) who also support the LMS platform, which has become an essential tool for delivering high-quality online learning experiences. During this year's teacher appreciation week, administrators, faculty and staff from St. John's College, St. Anne's School, Bishop Michael Eldon School (Grand Bahama), and St. Andrew's School (Exuma) received a special gift from CBBS and SmartTerm as a show of appreciation.
Charnette Thompson, Vice President of Cable Bahamas Business Solutions, stated, "We realize that being a teacher is a demanding and often thankless job, and we wanted to take the opportunity to show our appreciation for the hard work and devotion that teachers put in day in and day out. Teachers have faced new and difficult obstacles in recent years, and we hope this token of our appreciation will make them feel valued and appreciated.
"SmartTerm and CBBS are united in our mission to support teachers and students," said Shamir Saddler, Founder and Chairman of SmartTerm Technology Ltd. "We are thrilled to celebrate Teacher Appreciation Week and show our appreciation for the tireless work of teachers in our communities."
This partnership between CBBS and SmartTerm reflects the shared commitment to education and providing the necessary resources and tools to support teachers and students. By working together, CBBS and SmartTerm can help create a positive and supportive work environment that promotes learning and growth for both teachers and students.
Italia Davies, Director, ACEA, expressed gratitude to Cable Bahamas Business Solutions and SmartTerm for their gifts. "It's great to know that our efforts are valued and appreciated by the Cable Bahamas Business Solutions Team."