Cable Bahamas Business Solutions & SBDC Continue To Gain Success Through The "Corporate Connection" Radio Talk Show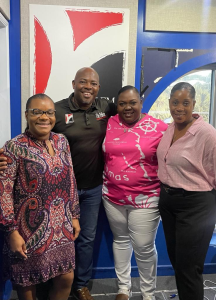 Cable Bahamas Business Solutions and the Small Business Development Centre (SBDC) are delighted to announce the continued success of "The Corporate Connection," where they shine a spotlight on startup and existing entrepreneurs and businesses, contributing to the growth and vibrancy of the local business community.
"The Corporate Connection" has become a highly anticipated platform for entrepreneurs, startups, and established businesses in the Bahamas to share their inspiring stories, innovative ideas, and experiences with a broader audience. Hosted by prominent representatives from Cable Bahamas Business Solutions and the SBDC, the show aims to encourage entrepreneurship, foster networking opportunities, and promote economic development across the region.
POW! Pancakes, Omelets & Waffles Ltd., was the latest business to be featured during the morning show appearance on Y98. POW! was founded by Xavia Rolle-Higgs in 2017. The organization has rapidly gained popularity for its delectable and creatively crafted pancakes, omelets, and waffles, earning a loyal customer base and garnering attention across multiple social media platforms. Through the unwavering support and resources provided by the SBDC, "POW!" has overcome challenges, expanded its operations to include a brick-and-mortar establishment, and solidified its position as a prominent player in the local Food & Beverage Industry.
"I am incredibly grateful for the unwavering support we have received from SBDC," commented Xavia. Their expertise, resources, and encouragement have been instrumental in turning my passion for cooking into a thriving business venture.  We are also thankful to Cable Bahamas Business Solutions. Their cutting-edge technology and reliable internet connectivity have been vital in enhancing our online presence, streamlining our operations, and reaching a wider customer base. With CBBS by our side, we feel empowered to navigate the digital landscape and grow our business to new heights." 
The SBDC is committed to supporting the growth and sustainability of local businesses and plays a crucial role in identifying promising entrepreneurs within their Guaranteed Loan Programme and funded client base to be featured on the show. They provide guidance, resources, and encouragement to these entrepreneurs, ensuring they make the most of this valuable opportunity.
"As a supporter of entrepreneurship, the SBDC takes great pride in connecting entrepreneurs with the right platform to share their stories and inspire others," said Michaela Munnings, Corporate Communications Manager. "We believe that sharing experiences and knowledge is instrumental in nurturing a thriving entrepreneurial ecosystem."
Each month, the show features a diverse lineup of guests, ranging from emerging entrepreneurs to seasoned business leaders, from various industries. These dynamic entrepreneurs have the chance to discuss their ventures, challenges faced, milestones achieved, and the impact they're making in their respective sectors.
CBBS, the leading technology provider, has been instrumental in powering local businesses like "POW!" with its online presence and digital capabilities. Through its reliable and high-speed internet connectivity, CBBS enables seamless online ordering, efficient communication with customers, and enhanced digital marketing efforts for the business.