Cable Bahamas Business Solutions Remains Committed In Support Growth and Development
Evolving Risks and The Way Forward RF BEO Conference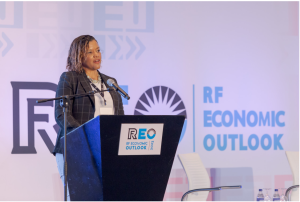 Cable Bahamas Business Solutions remains committed to supporting the growth and development of the Bahamian economy and we are proud to once again sponsor the RF Bahamas Economic Outlook Conference.
This conference is a premier event for business leaders, investors, and policymakers to gather and discuss the latest trends and opportunities in The Bahamas economy. The conference, which was recently held at the BahaMar Convention Center, included keynote speakers and panelist, Andrew Busch, Economic Futurist & 1st US Chief Intelligence Officer, Ron Isana, Trailblazing Financial Journalist, Marla Dukharan, Leading Economic Advisor for the Caribbean and Kevin Hobbs, Serial Entrepreneur and Tech Innovator, who collectively addressed the "Evolving Risks and the way forward."
Charnette Thompson, Vice President of B2B Innovations for Cable Bahamas Ltd., was given the opportunity to introduce Ron Isana during the conference.
"As the leading provider of business solutions in both New Providence and the Family Islands, we understand the importance of staying ahead of the curve in today's fast-paced business environment," commented Mrs. Thompson. "That's why we as an organization are excited to support this year's conference and help our customers stay informed and up-to-date on the latest economic trends and opportunities."
The RF BEO was well attended as businesses of all sizes and key stakeholders, connected during this year's event.
Cable Bahamas Business Solutions continues to support these efforts and is committed to driving economic development.