Cable Bahamas Business Solutions Sponsors Bahamas Business Outlook in Grand Bahama
Under the theme Forward, Upward, Onward Together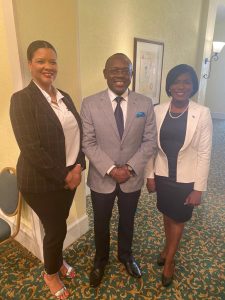 Cable Bahamas Business Solutions is proud to announce its sponsorship of the24th Annual Bahamas Business Outlook conference, organized by The Counsellors Ltd. The event, which took place this past Thursday, March 16th, 2023, in Grand Bahama, brought together a diverse slate of speakers from various industries who addressed the theme "Forward, Upward, Onward Together" in celebration of the nation's 50th Independence.
Highlighting the event was Deputy Prime Minister, Hon. I. Chester Cooper, M.P. who spoke on 'A Bold Vision for Grand Bahama.' Also in attendance and speaking at this year's conference was Minister for Grand Bahama, Hon. Ginger Moxey, M.P. who spoke on 'Shaping the Future for Grand Bahama.'
As a leading provider of telecommunications services to businesses in The Bahamas, Cable Bahamas Business Solutions is committed to supporting the growth and development of local businesses. The company's sponsorship of this year's conference is part of its ongoing efforts to promote entrepreneurship and economic development in the country.
"We are excited to support The Grand Bahama Business Outlook and its mission to drive economic growth and prosperity in The Bahamas," said Charnette Thompson, Vice President of Cable Bahamas Business Solutions. She said Cable Bahamas Ltd. and Aliv also look forward to supporting the airport project, solar farm initiative and 1BN developments that are planned for Grand Bahama. As a company that is deeply invested in the success of businesses throughout New Providence and the Family Islands, we believe that this event continues to be an excellent opportunity to connect with industry leaders to share our expertise and support communities throughout the nation."
Mrs. Thompson spoke to 'Staying Connected' as a key aspect for businesses throughout the island and emphasized that in today's fast paced and interconnected world, having reliable and efficient communication and connectivity tools are critical for any business to succeed. As the premier provider for these solutions, Cable Bahamas Business Solutions can help businesses stay connected with their customers, employees and partners no matter where they are located.
Cable Bahamas Business Solutions' sponsorship of the Bahamas Business Outlook underscores its commitment to providing innovative and reliable solutions to businesses across the country. Through its sponsorship of this event, the company aims to building lasting relationships with local entrepreneurs and contribution to the continued growth of the Bahamian economy.