Cable Bahamas Business Solutions Supports Abaco Business Expo
Empowering SME's with the Right Technology Tools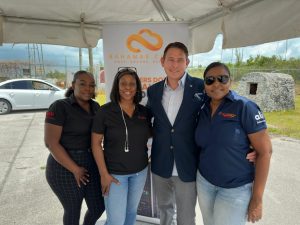 Cable Bahamas Business Solutions, the nation's leading technology provider, continues to demonstrate their ongoing commitment to small, medium, and micro enterprises both locally here in New Providence as well as throughout the Family Islands.
In the most recent demonstration of supporting communities in which they both work and live, the premier quad-play provider sponsored the first annual Small Business Expo in Marsh Harbour, Abaco. This expo was designed to help businesses connect with customers as well as business to business within the market, to highlight the services offered and act as a networking opportunity.
Member of Parliament for Central and South Abaco, Mr. John Pinder II opened the event and welcomed vendors including Fidelity Bank, IslandPay, SBDC, BTVI, Milo Butler Distributors along with several other local businesses which gathered at the BAIC Park in Marsh Harbour. The Small Business Expo took place Saturday, May 6th and opened its doors to the public at 11am where they allowed vendors to network, share best practices and showcase their goods.
"Small businesses face numerous challenges in today's ever-changing business landscapes, including competition from larger companies and rapidly evolving consumer trends," commented Delmaro Duncombe, Director of B2B Innovations for Cable Bahamas Business Solutions. "However, by empowering small business owners with the right technology tools, they can overcome these obstacles and unlock their full potential. Cable Bahamas Business Solutions, by way of our internet and communication products, seek to empower small business owners with the right technology tools for achieving success in today's digital economy. By doing so, we create a more level playing field, increases productivity and efficiency and help small businesses grow and prosper."
Chantelle Sands, organizer for the Small Business Expo also commented on the event and impact it had within the business community.
"The Small Business Expo was created to promote and assist existing and upcoming entrepreneurs to meet key stakeholders in the business community and offer them the opportunity to advertise their brands, products and services," said Sands, event organizer. "All of this in turn allows the businesses to be more visible in the market and grows revenue. I am extremely grateful for everyone's support received and wish to extend a special thank you to all the sponsors and teams that assisted me to execute the event!"
Simone Pedican, the island representative for Abaco was also in attendance to further promote and feature the full suite of business solutions offered by Cable Bahamas to local businesses on the island. These services include high-speed internet, cloud-based phone systems, push-to-talk devices and mobile solutions which are designed to strengthen connectivity to meet and support the needs of SMEs on the island.
"By providing reliable and affordable connectivity solutions, Cable Bahamas Business Solutions is helping family island businesses to operate more efficiently, reach new customers and markets, and ultimately grow their businesses," said Simone Pedican, Sales Representative for Abaco, The Bahamas. "This, in turn, helps to improve the lives of residents on family islands by creating new job opportunities and driving economic growth."
Cable Bahamas Business Solutions remains committed to supporting family island businesses in the Bahamas. The company is currently exploring new ways to provide innovative solutions to the business community.