REV breaks all Internet speed records for The Bahamas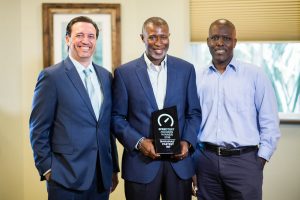 The world leader in Internet performance testing and metrics has named REV The Bahamas' fastest fixed broadband provider for the year 2016.
Ookla, the globally trusted broadband analyst and owner/operator of the widely-used Speedtest web service, ranked REV as the fastest Internet service provider in the country based on results from over 38,000 speed tests conducted in the first half of 2016.
Data from these national tests shows that REV is over two times faster than the competition, clocking average download speeds of 51.45 megabits per second (Mbps) and upload speeds of 14.69 Mbps.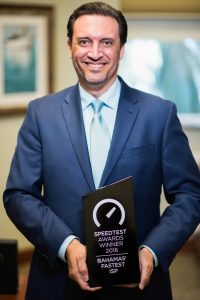 "This is a great honour for our company," REV Vice President of Marketing David Burrowssaid. "We work tirelessly to deliver the level of service and support our customers deserve. We understand the demand for greater capacity and faster speeds and our commitment to fulfilling these calls have been evident in the various speed increases we've implemented over the last four years."
The company has consistently delivered speed increases to REVON subscribers – the latest speed hike being offered at no added cost to "triple play" subscribers. REV attributes its ability to meet the ever-increasing demand for faster speeds to its robust distribution network built over 21 years ago.
"We've designed an extensive fibre-optic network with self-healing capabilities that allows us to adapt to growing consumer needs without having to build over old technology," REV Chief Operations Officer John Gomez said. "Thanks to this network, REV has been able to deliver a broadband experience that rivals international Internet service providers, and customers don't have to take our word for it. The proof is in the speed test."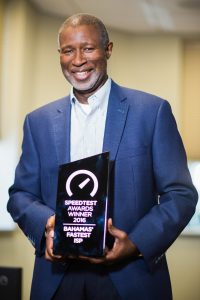 Speedtest by Ookla is the most popular and trusted way to measure Internet performance across the globe. According to Ookla's Speedtest reports, over 50 million tests are performed every month. The free service allows everyday Internet users to monitor their connection speeds from any device at any time and compare those results with others in the region or around the world.
"We are pleased to name REV as the Fastest Internet Provider in The Bahamas," Jamie Steven, Chief Operations Officer at Speedtest by Ookla said. "This award reflects REV's demonstrated commitment to providing fast speeds for their customers."
Speedtest by Ookla is widely accepted as the industry standard for fast, convenient and accurate testing.