REV closes market gap with launch of Business in a Box solution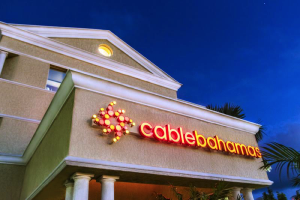 "Small and medium businesses to benefit from competitive solutions"
Local small and medium sized enterprises (SMEs) will soon have a fully integrated solution to improve business operations. Starting this month, REV commercial services will offer REV Business in a Box (BIAB) with affordable Voice, Data, TV and advertising packages, providing high value for spend to improve operational efficiencies. These solutions have major application for businesses wanting to grow brand awareness while increasing productivity without compromising quality of service and meeting more stringent financial requirements.
During a recent address at the Bahamas Chamber of Commerce Power Breakfast, The Hon. Dionisio D'Aguilar stated that SMEs contribute significantly to the country's GDP, continuing, "SMEs are a powerful force in job creation and the re-invigoration of our economy…We are particularly relying on SMEs, in the long term, to ease Government's burden as the number one employer in our country."
SMEs range from entrepreneurs to retail/franchise stores, representing over eighty percent of our market. According to Director of Sales, Charnette Thompson, "This is the first time that commercial customers in The Bahamas will receive such an unabridged package. We realized that there was a gap in the market, and we stepped in to provide the much needed services. We have designed these service offerings to help small business owners really take advantage of technology to build their business."
In reference to the advertising packages, Thompson continued, "Innovation plays a pivotal role here at REV, and we are proud to be the first communications company in The Bahamas to propose offering advertising packages as part of our business solutions."
"Although SMEs typically have less than 100 employees, they need communication tools and resources to optimize productivity, enhance customer service and increase profitability," shared Edison Sumner, Director and CEO, The Bahamas Chamber of Commerce and Employers' Confederation (BCCEC). The REV BIAB solution provides tools for entrepreneurs to start and grow their business; from home-based businesses, to entrepreneurs with a vision, or retail stores and restaurants that want to offer WiFi to their guests.
While high advertising cost has traditionally been seen as a barrier for small businesses and startup companies. Thompson shared, "We wish to remove any perceived barriers to entry with the viable business solutions that we offer and want the business community to know that REV commercial services has a plethora of individualised solutions. REV is truly your communications provider of choice for unbeatable value; whether it be our reliable Internet services, affordable business voice lines, TV services, advertising and value-added services. REV BIAB is the perfect start up solution for any business"
For more information on BIAB, contact REV commercial solutions on 601-8911 or commercialsales@cablebahamas.com.