Cable Bahamas Celebrates Girls in ICT Day in Partnership with URCA and Industry Licensees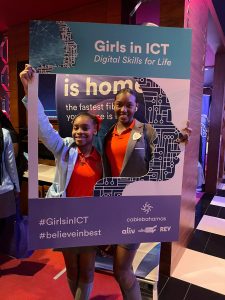 Nassau, Bahamas – April 30th, 2023
Cable Bahamas is proud to celebrate Girls in ICT Day under the theme "Digital Skills for Life" in partnership with the Utilities Regulation and Competition Authority (URCA) and other industry licensees. The event has undoubtedly inspired future generations of female computer programmers, journalists, and cyber "sheroes".
Attendees included students from junior and senior high schools in New Providence and virtual participants from the Family Islands. As a company with a fervent commitment to gender equality, Cable Bahamas is honored to have about 50% of its executive leadership positions held by women and it continues to inspire and support young girls in their pursuit of careers in information and communications technology (ICT).
On this special day, Cable Bahamas, in collaboration with URCA and other partners, hosted an array of activities aimed to empower and educate young girls about the limitless opportunities available in the world of ICT. The day-long celebration featured hands-on workshops including splicing fibre-optic connections and a session on how to protect networks from hackers.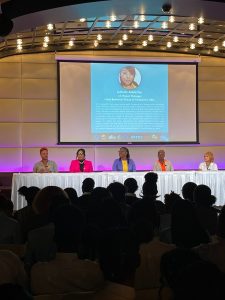 The event also featured inspiring keynote speeches, panel discussions, and networking opportunities with successful female professionals in the ICT sector. LeKeita Adderley, I.T. Project Manager at Cable Bahamas, spoke to the group of aspiring students about her own experiences as a woman working in IT and the challenges and triumphs inherent to success in the industry.
"Our Girls in ICT Day celebration is a critical opportunity to empower and inspire young girls to become the leaders of tomorrow in technology. This event not only showcases the vast opportunities within the ICT sector but also highlights the immense potential that these young girls possess. It is essential to nurture their aspirations and talents, for they are the future innovators and change-makers that will drive our country forward." said Franklyn Butler, Group CEO at Cable Bahamas Group of Companies.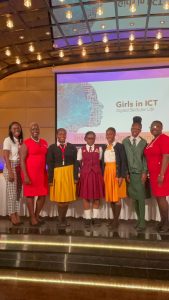 In addition to the workshops and networking events, Cable Bahamas also announced the winners of the "Invest in Women" scholarship in partnership with Virginia State University and the Nassau, Bahamas Alumnae Chapter of Delta Sigma Theta Sorority Inc. Bahamas Academy student and aspiring Computer Engineer, Carlia Elvise was one of the recipients of a full scholarship to Virginia State University. Carlia shared how helping her father with computer repairs at an early age ignited her interest in computer engineering.
Nassau Christian School Keira Rolle won the second full tuition scholarship to attend Virginia State University. She plans to major in mechanical engineering and become a Carbon Engineer. According to Kiera, her middle school science project on renewable energy that sparked her interest in the science field. Both runners-up, Queen's College's Maude Joseph and Nassau Christian School's Brinika Burrows, were also awarded scholarships to Virginia State University.
The scholarship will provide financial support to deserving students who wish to further their studies in this vital sector. This partnership also underscores the company's dedication to empowering the next generation of women leaders in the technology industry.
Cable Bahamas extends its gratitude to URCA and all other participating licensees for their contributions to the success of Girls in ICT Day. By working together, we are creating a powerful foundation for the future of the ICT sector, ensuring that it benefits from the diverse perspectives and skills of young female professionals. Girls in ICT Day was created by the United Nations International Telecommunications Union (ITU) and is celebrated annually on the fourth Thursday of April to encourage more women to pursue careers in ICT.
-END